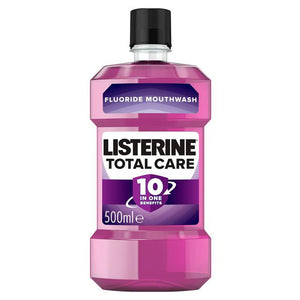 Description
Total Care
LISTERINE® Total Care is proven to provide 10-in-1 benefits. For Total oral care! The formula kills up to 97% of plaque and bad breath causing germs left behind after brushing. Just 30 seconds of rinsing, twice a day.

Used twice daily, LISTERINE® Total Care is proven to work in 10 ways to maintain a clean and healthy mouth:
1. 12hr germ protection
Germ protection to help maintain oral hygiene
2. Works below gum line
Reduces plaque below the gumline
3. Cleans between teeth
Works in hard to reach places
4. Strengthens enamel
Contains fluoride to help strengthen teeth
5. Helps prevent tartar
Contains zinc chloride to help prevent tartar
6. Gum protection
Helps kill plaque causing germs to keep gums healthy
7. Cavity protection
Strengthens tooth enamel to protect against decay
8. Reduces plaque
Reduces plaque by up to 56% more than brushing alone
9. Keeps teeth naturally white
Helps prevent tartar build up to keep teeth naturally white
10. Freshens breath
Helps provide up to 24-hour fresh breath protection
Listerine® is a registered trade mark.
Ingredients
[PR-017429],
Aqua,
Alcohol,
Sorbitol,
Poloxamer 407,
Benzoic Acid,
Zinc Chloride,
Eucalyptol,
Aroma,
Sodium Saccharin,
Methyl Salicylate,
Thymol,
Menthol,
Sodium Fluoride,
Sodium Benzoate,
Sucralose,
Propylene Glycol,
CI 16035,
CI 42090,
Contains Sodium Fluoride (220 ppm F)
Manufacturer
Johnson & Johnson Ltd,
High Wycombe,
HP12 4EG,
UK.

Johnson and Johnson (Ireland) Ltd,
Tallaght,
D24 WR89,
Ireland.
Preparation
Directions: Especially effective when used morning and evening after brushing. Pour 20 ml (4 x 5 ml teaspoonfuls) into a glass, rinse around teeth and gums for 30 seconds, then spit out.
Not suitable for use in children under 12 years.
Do not swallow. If swallowed, get medical help.
Do not use if allergic to any of the ingredients.
Stop use and ask a dentist if oral irritation occurs.
Keep out of the reach of children.