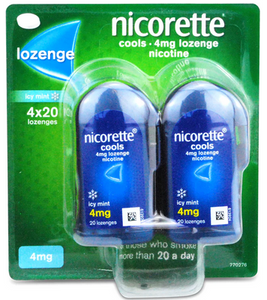 Description
Nicorette Lozenges help reducing your cigarettes craving making the quitting process less stressful for you.
Nicorette Cools 4mg Icy Mint Lozenges are designed for those who smoke more than 20 cigarettes a day and they work in just 2 minutes. If you smoke less than 20 cigarettes a day you should go for the 2mg Nicorette Lozenges.
Adults and children aged 12 years and over:
Do not chew or swallow the lozenge.
Place the lozenge in your mouth and allow to dissolve.
Use 1 lozenge when required, usually 8-12 lozenges per day.

Do not use more than 15 lozenges per day. Read the information leaflet carefully before use.
Do not use if you are a child under 12 years of age.
Do not use if you are allergic to any of the ingredients.
Nicotine can be harmful for you and the baby. If you are pregnant or breast feeding you should try to give up smoking without NRT. Stopping completely is highly recommended but If you can't manage this, you can use NRT as a safer alternative to smoking as the risks to your baby are far less than smoking, however you should talk to your doctor, nurse or pharmacist for advice.

Speak to your doctor or pharmacist before using Nicorette Lozenges if:

you have heart problem like chest pain or pressure, a heartbeat that does not feel normal, or a recent heart attack.
you have a stomach ulcer, duodenal ulcer, inflammation of the stomach or inflammation of the oesophagus.
you have liver or kidney disease.
you have an overactive thyroid gland or if you have phenylketonuria.
you have diabetes and are taking medications. Nicorette Lozenges may alter your blood sugar level.
you are taking any other medication.
you still smoke, chew tobacco, or use other products that have nicotine while using this medicine.
Tell your doctor or get medical help right away if you:
Have any sign of an allergic reaction
Feeling more nervous or have mood changes
Feel a fast heartbeat or pain in the chest
Feel dizzy
Have an upset stomach